Homemade namasu carrots and daikon / do chua on my kitchen counter


Here's a super easy recipe for pickled/marinated carrots and daikon (Japanese white radish). It is what Japanese call kōhaku ("red and white," with orange categorized as a kind of red) namasu ("raw vinegar," with "raw" referring to the uncooked vegetables and "vinegar" referring to what flavors them and alters their chemistry) 紅白生酢 . It is also more or less the same thing as Vietnamese do chua, one of the delicious things inserted in French bread (albeit baked with rice flour) to make banh mi sandwiches.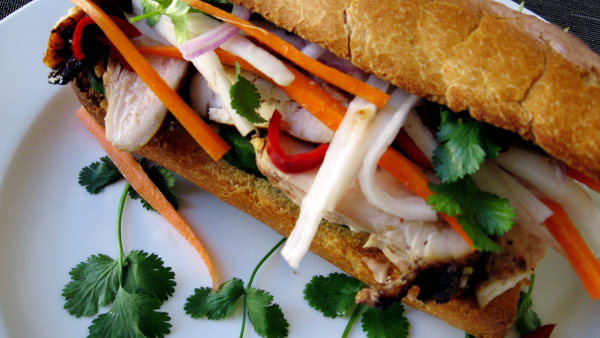 Besides in banh mi, West Coast Guy (WCG) likes
namasu
/
do chua
with rice, and to eat it with some kind of meat or fish (see tilapia recipe below). But it is great on toast or crackers with some cheese, for example
chèvre (goat cheese)
. Whenever I make these veggies (using local small, Hmong farmer versions of daikon so far), and share them with others (non-Japanese, non-Vietnamese), they eat a lot of it.... It is very good.
Here's a way to do make it:
Buy what in English is called "seasoned gourmet rice vinegar," made by Marukan or some other company. The Japanese says, "sushi su," which means sushi vinegar. This is because it is rice vinegar to which they have added some salt and sugar. This is "whole food" stuff (as I recall, having used up my last bottle a couple days ago to prepare the vegetables pictured above): just vinegar, salt, and some sugar. It is the formula suitable for flavoring rice to be used in making sushi.
The next super simple step: put julie-anned carrots and diakon into some kind of container. I use freezer, microwave, and dishwasher safe sealable plastic ones. Then pour the vinegar, covering the veggies. Next, put it into the fridge, and wait a while.
After a few hours, the carrots and daikon will very much absorb the flavor from the vinegar, etc. After a day or two, it will take on a more pickle-like taste and fragrance.
Note: if you don't have, cannot buy, or run out of "seasoned gourmet vinegar" (you can buy it at most grocery stores, even in La Crosse), you can just add some sweetener and some salt to vinegar. It is that simple. When I ran out - not having quite enough - recently,I added some agave syrup and salt to some un-seasoned rice vinegar, and it tasted great.